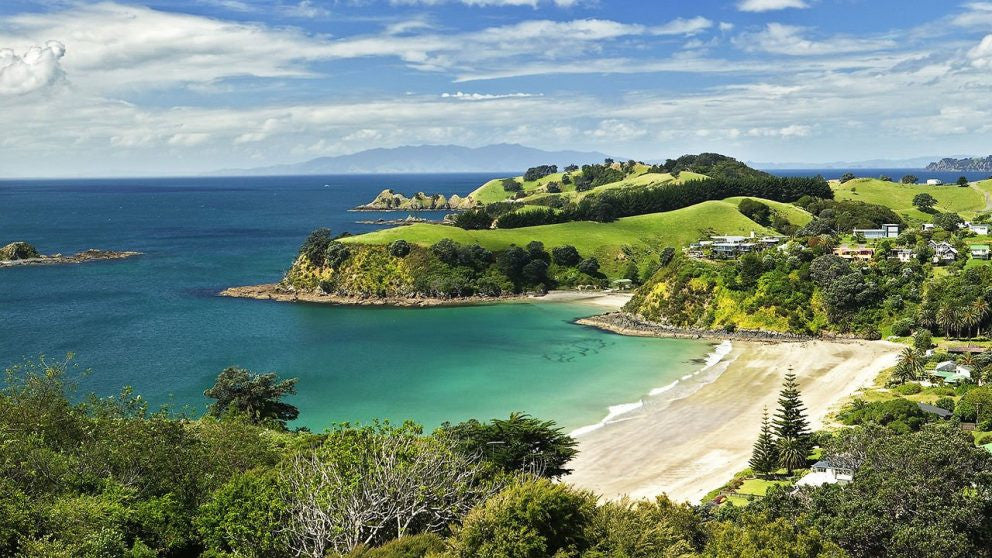 Yesterday I had the pleasure of meeting Sara Fogarty from Man 'O War wines, and taste through there current releases and a couple of library samples, so we could gauge how they will age. Now as the title suggests Man 'O War are based on Wahieke Island, New Zealand, in the Hauraki Gulf, east of Auckland on the North island.

The estate was originally 4 farms that were all purchased in the early 80's and combined to create a massive 4,500 acre estate in the north eastern corner of the island. Only 150 acres across 76 sites are under vine, and this is still a working farm with sheep, olives, fruit and your even able to get married at the chapel on the estate. Each of the vineyard sites has been selected due to it's facing, soil and microclimate for specific varieties, the one grape they don't grow though is Pinot Noir as they are too far north for it, they concentrate on the varieties from Bordeaux and the Northern Rhone for their reds. They also have a very interesting take on naming vineyard sites, with names such as Lunatics, Madmans, Asylum and Bitch just to give you an idea, and their wines as you'll see below.


Cliff's Vineyard
Ponui Island
Madmans Vineyard



                                                   

The vineyards started to be planted in 1992 by Matt Allen who is still Vineyard Manager today, the first vintage was produced 1996 and they didn't release any wine till 2006! Then in 2008 Duncan McTavish came on board as Winemaker having previously worked for Waipara Springs and before that Pegasus Bay (one of my favourite vineyards). The one thing that struck me the most during the introduction to the vineyard was the ethos of 'for the future', they are all about taking there time getting it right and making sure everything is in place for the future generations to continue and develop.

On to the tasting, we started with;

2013 Gravestone
This is a blend of 75% Sauvignon Blanc and 25% Semillon, a classic Bordeaux blend, not usually one of my favourites but this one I really enjoyed. 20% of the Sauvignon and all of the Semillon go into pucheons to give the wine a touch more richness and some gentle spice while retaining the fruit and refreshing minerality perfectly balanced with the acidity.


2014 Valhalla
100% oaked Chardonnay, with 25% new oak, 5% Acacia and 70% old oak. This is a wonderfully big rich wine, with a lovely buttery texture that's cut through beautifully by the acidity as this wine does not go through maololactic fermentation. On the nose and palate you lovely hints of sweet spices, green apples and grapefruit folowed up with the touch of minerality.



2014 Bellerophon
This is Duncan's hommage to Cote Rotie, and is a cofermented Syrah (97%) and Viognier (3%), they ferment 30% in whole clusters and age it for 18 mths, 25% in new oak and the remaining 75% in ols seasoned oak. This is a pretty yet powerful wine, with lovely dark fruit, and hints of raspberry, violets and white pepper which all combined beautifully with the acidity and the tannins.


2009 Dreadnought (no longer available)
100% Syrah which 100% see's oak, 12% new for 11 months, giving you big rich dark fruit and lashings of white pepper,a lovely acidity and silky fine tannins. As all these combine it gives the wine a real savoury character which is lovely and lingers around on your palate for what seems like forever.

2013 Dreadnought (current vintage)
For this year 50% went into new oak and the other 50% went into old seasoned oak. This wine shows all the same characteristics as the 2009, it does have slightly more youthful character to the fruit and spice, the tannins while still fine are far more present and acidity has softened out as much as the 2009 but it's drinking fantastically now and will continue to develop over the coming years.

2014 Dreadnought (not released yet)
The only way to really describe this is that it's a slightly more youthful version of the 2013, needs time to integrate and soften out, but when it does, it will be pretty magnificent.


2010 Ironclad (current vintage)
This is their red Bordeaux blend, 39% Cab Franc, 30% Merlot, 18% Cab Sauv, 7% Malbec and 6% Petit Verdot, Yes this is a big old blend, but a pretty stunning one at that. With lovely fruit, spice and hints of minerality to it. Combined with soft and silky tannins contributing an almost cocoa texture to the wine, this is definitely a favourite of mine.

2012 Ironclad
45% Cab Franc, 20% Merlot, 14% Petit Verdot, 13% Malbec and 8% Cab Sauv, you can really tell the reduction of Cab Sauv and increase in Petit Verdot on the nose of this wine. It has much more brighter fruit to it and the spice is very subtle in the background, but these will develop over the next couple of years, it has plenty of tannins so needs that little bit of time to help it soften out a touch.

I have to say these wines are delicious, not being a big fruit bomb style or full of dark sweet fruit, they have much more depth and complexity to them, which just helps to make them even more enjoyable and even better as they age, even just a little.