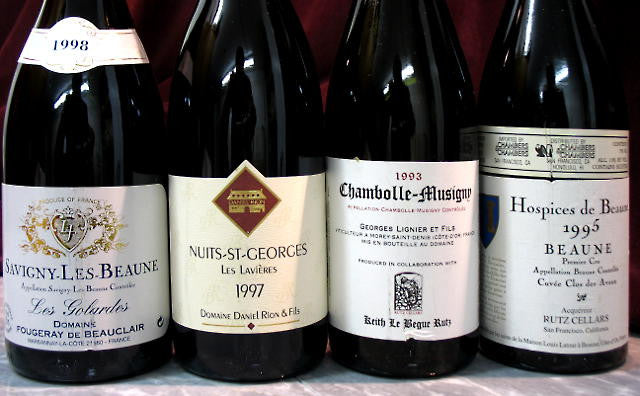 So this week has seen pretty much the whole of Burgundy descend on London for there 2015 En Primeur tastings, and what tastings they have been.

2015 was yet another trying vintage in Burgundy, the harvest was down on the 20 year average, which after the last few small vintages has been on a downward trend. July and August proved to be challenging, with the hot dry weather they had accelerating the ripening process and thickening the skins. This brought forward the harvest for the white grapes two weeks earlier than they had originally planned for, Chablis also had it's issues with hailstorms devastating large swathes of vineyards, but with the early harvesting this has made Chablis some of the best from this vintage.

Overall the 2015 vintage has been quite spectacular, the reds are showing all the best characteristics of the 2005 and 2009 vintages having both freshness and opulence. The whites have been a bit of a mixed bag, with some being overblown and lacking acidity, from harvesting too late. While the people who harvested early really got the benefit from this with beautifully poised and balanced wines that will age well.

I have to say it has been difficult to find a bad wine this week, the quality has been at the highest level, with wines showing great ageing potential. The whites will need a little more time to hit there sweet spot, the reds however will need a little longer, the tannins are fine, but bountiful so will need a little time to soften and become silky.

The only downside has been the price, while these wines are amazing they are not cheap, 2016 has been an even smaller harvest so prices for the 2015 have had to shoulder some of that burden, then the falling euro exchange rate has put even more pressure on the prices.

A couple of producers to keep an eye out for;

Samuel Billaud - with the sale of the family domaine, Billaud-Simon to Domaine Faiveley, Samuel has managed to gain control of all his vineyard sites and now has several new Grand Cru wines in his range. His wines showed great depth and complexity, the unoaked whites had lovely fruit, a steely minerality and a beautifully zippy acidity, while the wines that have seen some oak have a rich toasty character that will age beautifully. Samuel is definitely one of the stars of Chablis and the price reflects that, they are not the cheapest of wines, but they certainly won't disappoint and should be everyone's cellar.

Domaine Bitouzet-Prieur - These guys produce some stunning Meursault, from single vineyard sites and a couple of 1er Cru. They all have lovely fruit, almost baked apple with hints of spice and a rich toasty oak finish. These wines will need a little time to integrate all those flavours and deliver a stunning wine.

Domaine Daniel Rion et Fils - These have been a favourite of mine for a couple of years now, and again the have not failed to deliver. The wines have such a depth of fruit with hints of spice and oak, a touch of acidity and loaded with soft, fine tannins. Give these wines a couple of years and they will be absolutely glorious.

Domaine Heresztyn-Mazzini - This was a new domaine for me, Florence Heresztyn has taken over her share of the family domaine and with her husband Simon Mazzini have transformed the quality of these wines. They produce some wonderful Gevrey-Chambertin and an amazing Clos-Saint-Denis, but the star for me was their Bourgogne Pinot Noir, which had loads of bright juicy fruit, little hints of spice and soft tannins and is almost ready to drink now, also shows a rarity in this vintage, good value.

Domaine Edmond Cornu & Fils - Again another new domaine to me, who produce some lovely whites from Chorey-les-Beaune and Ladoix, but the reds were even better. They produce a stunning Ladoix Vieilles Vignes and Aloxe-Corton Vieilles Vignes both loaded with dark fruit, spice and soft tannins, give this a little time to integrate and again they will be fantastic and show great value.